We were visiting Murud for a weekend getaway when we thought of visiting some local attractions besides just the walk-across-the-road beach from our resort.
When in this beach town, one of the top places and a must-visit is the Murud-Janjira fort. Why so? Firstly, take a look at it!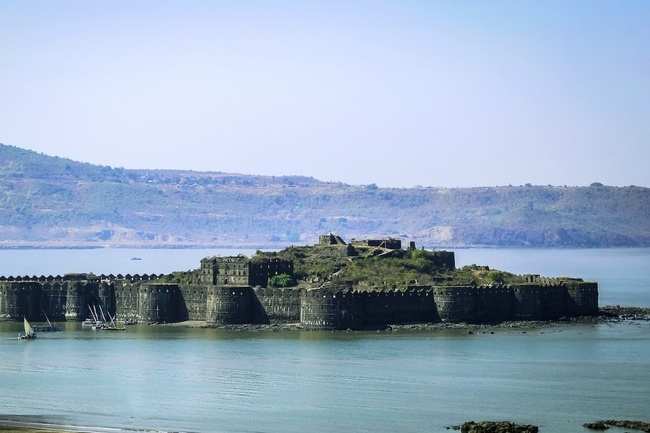 That's how it looked from our car as we drove towards it and we were immediately enticed.  As can be made out, one cannot drive to the fort as it is an island fort of sorts. So, visitors can gain access to the Janjira fort from Rajapuri (a small village on the coast) and after a short ride in a small boat, one can enter the fort through the main entrance.
The boat ride in itself is quite an exciting experience, but the main attraction is of course what awaits inside the fort building.
Currently under protection of the Archaeological Survey of India (ASI), this fort, which was built way back at the end of the 17th century, is surprisingly still beautifully intact.
The Janjira fort  is considered one of the strongest marine forts in India.
A special attraction of this fort are 3 gigantic cannons named Kalalbangdi, Chavri and Landa Kasam. These cannons were said to be feared for their shooting range.
Another gate to the west is sea-facing, called 'Darya Darwaza' which opens directly into the sea.
The fort has 26 rounded bastions, still intact. Though the fort is no longer in use and now mostly lays in ruins, in its heyday it was a full-fledged living fort with all the necessary facilities within the premises of the fort-wall itself. These facilities included palaces, quarters for officers, a mosques, houses for common folk and two small natural fresh water lakes (one of which still has fresh water storage)
The fort is oval in shape, as opposed to the usual oblong or square shape of such forts. The wall of this fort is about 40 feet high and it has rounded arches (some of which still have cannons mounted on them)
Besides the rich history, what we enjoyed most was the view and of course, the winds. Despite it being afternoon time and the sun shinning brightly above our heads, we didn't feel hot!
If in Murud, or even in the nearby popular beach towns of Alibag and Dapoli, do give this architectural marvel a visit.
Pro-tip: Go during morning time, preferably before lunch, as the fort would be less crowded and you'll get a comparatively empty ferry ride too.