In focus for today's #TravelerTuesday is Kinderdijk in Netherlands.
Visiting Netherlands and not setting your foot or eyes on a windmill is like visiting Disney Land and not getting to see your favourite Disney character. I'd seen only a few (windmills) during my first few days, but then someone told me about an entire picturesque small town dedicated to these awe inspiring human creations.
Reaching there is a little out of the way (especially if you're travelling from Rotterdam via bus) but believe me it is all worth it. When you get a first glance at the row of windmills on both sides of the little lake, you'll definitely think it is a sight straight out of a postcard.
There is a museum (set up in one of the Mills itself) which tells the history of the place. One of the mills, where a family actually lives, has been made accessible to the public. This photograph has been captured from the kitchen window of that house. It even has a quaint café where you can enjoy a cup of coffee or hot chocolate while you absorb the surrounding natural beauty. Near the clothesline, there is a little seat right on the edge of the water, where I sat and read for a good half an hour before I realised sadly, that this wasn't my home and I had to leave with a heavy heart.
There are three options to move around and cover the entire row of mills:
-On foot or on a bike/cycle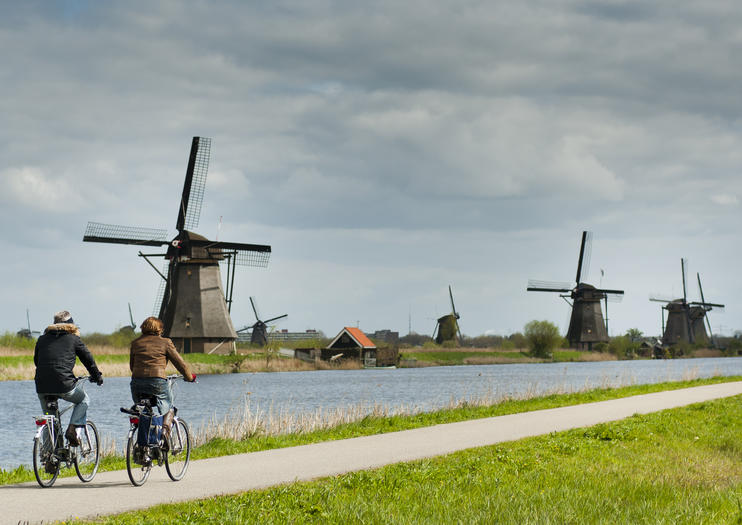 -The hop on/hop off ferry
-The regular ferry, which does not stop anywhere but circles the entire town.
I first covered everything on foot and then took the regular ferry,which gave me both the experiences and also ensured I didn't miss out on anything. ❤️😇
A little movie is also shown on the opposite side of the ticket counter, in the auditorium.
This is a UNESCO World Heritage Site and you definitely don't want to miss out on seeing it when you're in Europe or more specifically in Netherlands.
Pro-tip : Carry a credit card with you, because the R-Net buses do not accept cash payments. I was lucky to experience the Dutch hospitality first hand that day, because while going to Kinderdijk the bus driver swiped her own card for me and while returning, I got a free ride! Upon getting down when I asked him how I should pay, the driver simply gave a warm smile and waved it off by saying, "You're our guest, consider this a return gift" 😇