To be fit is the biggest fad today amongst us all. Right from celebs to sportspersons, everyone is spreading the awareness about how important it is to have a fit and healthy body.
And if you are on a weight loss journey, one of the most important aspects of weight loss is eating right. Breakfast being the most important meal of the day it becomes imperative that you be very cautious of what you eat. However that does not mean it should be the heaviest meal of the day either. Because doing that would not only add calories to your body but will end up making you feel lethargic for the entire day too.
As per the health experts and dietitians, the ideal calorie intake for breakfast is 400. So any food item which adds more than 400 calories to your body during the breakfast meal is a big no.
Here are the most common breakfast options from every Indian household that are definitely stopping you from losing weight.
1. Parantha
Yes, we all love maa ke haath ka parantha with lots of butter on it..  But the addition of butter, pickle and other dips makes the parantha as unhealthy as possible
Why is it unhealthy?
Shallow fried and served with side dishes like butter, curd, and pickle, this has oodles of calories.
Calorie Intake:
Gobi paratha- 164 (per paratha)
Aloo paratha- 162 (per paratha)
Pickle- 38 (one spoon)
Curd/Raita- 47 (one bowl)
Butter- 102 (1 tablespoon)
As you can see the calories intake will most definitely go above 400. However, a single parantha without butter might work fine.
2. Misal Pav
Though highly delicious and a popular dish, especially amongst Maharashtrians, Misal Pav makes for a highly unhealthy choice of the first meal of the day. It not only has oodles of oil but even a lot of spices and chili which is not good for your body. The addition of pav only makes it worse.
Why is it unhealthy?
The sabzi in itself is oily and spicy which is not advisable for a morning meal. The morning meal should ideally be without oils and spices or less oily and spicy. However a dish like misal pav would be impossible to make without oil and spice, hence it is better to completely avoid it.
Calorie Count
Misal- 298  (one bowl)
Pav- 180 (per pav)
3. Puri Bhaji
This one is another favorite almost all over the country, though each region has its own variation of it. Whatever the variation maybe but, the dish is extremely unhealthy because the puris are fried and fried potatoes are just the carbs that will make you gain weight.
Why is it unhealthy?
Having potatoes in the morning is unwise, that too, if they are fried and have spices added, it makes it all the more worst. The puris too are deep fried and the oil will shoot up the calorie count like anything.
Calorie count
Bhaji- 197 (one bowl)
Puri-  107 (single puri)
4. Kachori, Samosa
Though quite delicious and filling, and yet another popular breakfast choice for those who have little to no time to have breakfast at home and are on the go, samosa and kachori are a big no when trying to lose weight. Deep fried and stuffed with potatoes, do we even need to explain why you should chuck these from your breakfast?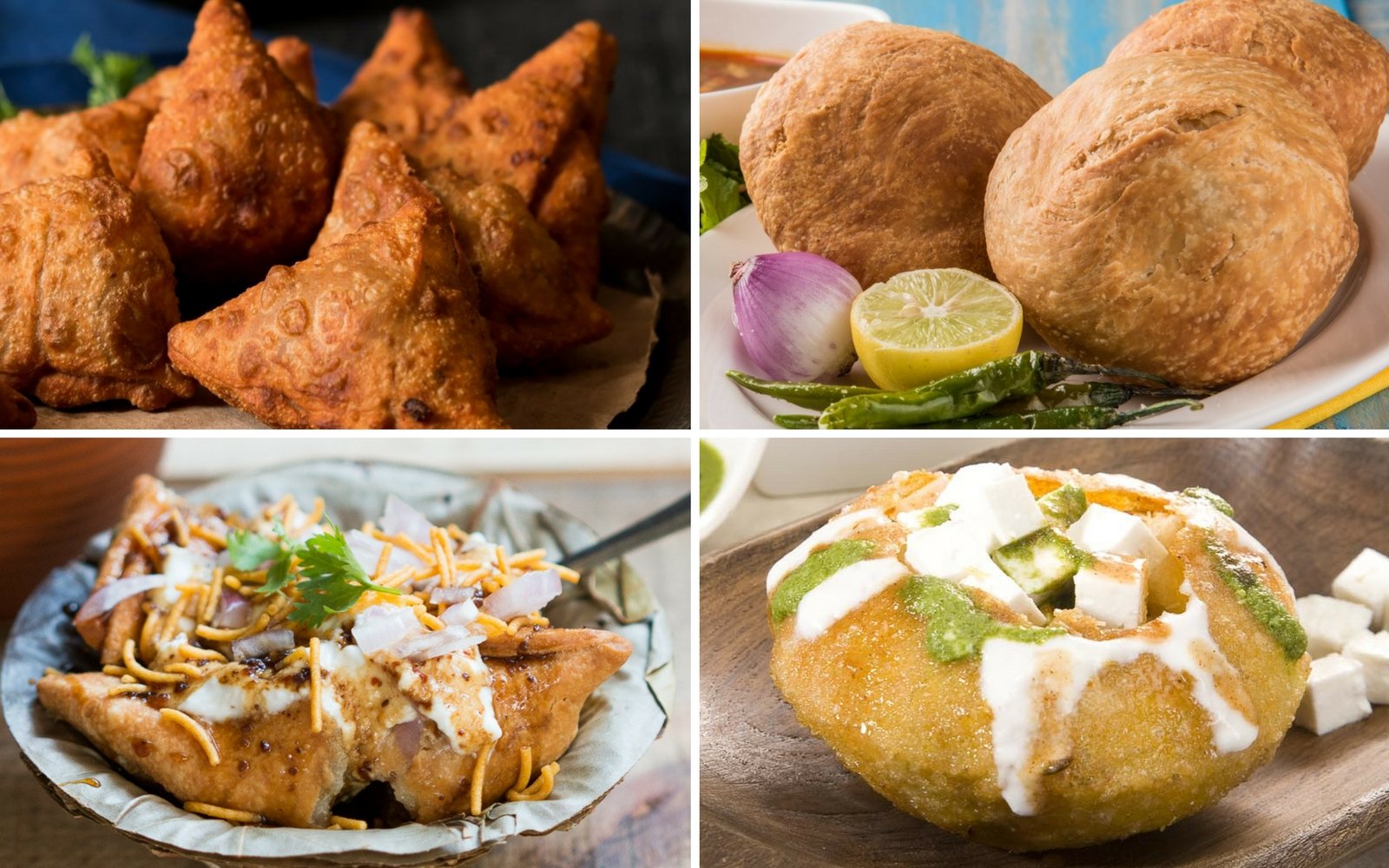 Why is it unhealthy?
Another item which is stuffed with potatoes. The stuffings are spicy and the deep fried, hence making it a bad option for a breakfast meal.
Calorie Count
Samosa: 308 (single piece)
Kachori: 201 (single piece)
5. Juices
Some people think juice is a healthy choice for breakfast. But packaged and canned juices have a high dose of sugar and little to no nutrients.  It's rather advisable to eat your fruit than drink your fruit. Eat fruit will help you get all the fiber and other important nutrients. But if you can't eat your fruits then here are some most healthy options that will definitely help you lose weight.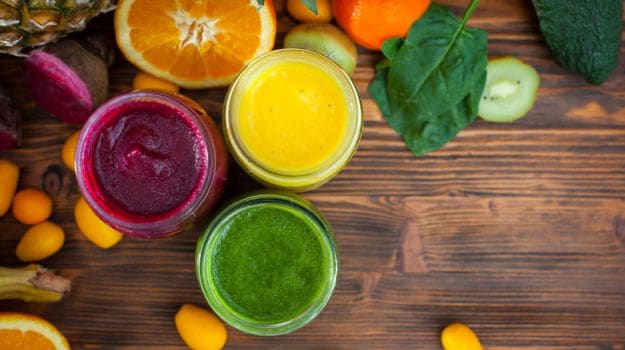 Why is it unhealthy?
The best way to consume fruits is in their solid form. If the juice is canned, that makes it even worse because there are added sugars.
Calorie count:
Canned- 88 (per 100 gms)
6. Pancakes
The pancakes that come packaged/readymade are stuffed with corn syrup and trans fats. Avoid these if you don't want your blood sugar levels to go skyrocketing. if you do want to include pancakes in your breakfast, make them at home, that too with stone ground flours and without added sugars or honey. Also, forget adding the maple syrup.
Why is it unhealthy?
Because they are high in fat, calories and sodium. Also, adding the maple syrup and honey will increase the sugar levels.
Calorie Count
Ready-made pancake- 80 (per piece)
Honey- 304 (100 gms)/ 52 (1 tablespoon)
Maple Syrup- 260 (100 gms)/ 20 (1 tablespoon)
7. Pastries
Desserts in itself are a bad choice for breakfast. And pastries are high in simple sugars, wheat, having high glycemic indices. As a choice for the first meal of the day, they would be the worst.
Why is it unhealthy for you?
Because they are generally made with refined sugar, refined wheat flour and added fats, which are disturbingly unhealthy fats.
Calorie Count
Puff/Frozen Pastry-550 calories (per piece)
8. Muffins
Although titled as 'health food', a muffin (or more) is low in fiber, has sugar content and is just empty calories. So not a wise choice to be considered a healthy choice for breakfast. Not to mention, the low fiber content also gives it a fairly high glycemic index. Hence, a big NO
Why is it unhealthy?
Because it is low in fiber and has high sugar as well as glycemic index content.
Calorie Count
Blueberry muffin- 377 (100 gms)
9. Protein Shake
Though widely popular and considered a healthy choice, protein shakes as a breakfast item aren't a good choice.
Why is it unhealthy?
A protein shake will get you all the minerals and macro nutrients you need for the day, but our bodies cannot simply function on liquid foods alone. Also, because of the sugar content, the blood sugar levels in your body will plummet later in the day. So, understand that a protein shake is just a glorified milkshake, and must not be in your breakfast menu if you are on your journey to getting into optimal shape.
Calorie count
Whey powder- 115 (single scoop)
Soy powder- 175 (single scoop)
10. Cold Cereal
This one is also not very healthy a choice.
Why is it unhealthy?
Most cereals, irrespective of however healthy and natural they claim to be, are stuffed with corn syrup and large numbers of preservatives. Adding milk to the cereal only makes it worse. They also have a high glycemic index which goes a long way in increasing your insulin levels and even your visceral abdominal fat stores.
Calorie count
Cereal- 230 (one small bowl)
Milk (if added)- 65 (100 ml)
11. Instant Oatmeal
This is another item which should be off your breakfast menu from today itself.
Why is it unhealthy?
The refining process involved in making the instant oatmeal, removes quite a lot of quantity of the fiber making glycemic index contained in it shoot up. The flavored varieties are worse as they are all loaded with sugar.
Calorie count:
367 (100 gms)/ 213 (1 cup)
12. Breakfast/ Granola Bars
This is far too high in sugar and calories to qualify as being a healthy food product and should definitely be off your breakfast items. Check out the recipe for the healthies home made granola bars to help  keep a watch on your weight.
Why is it unhealthy?
The sweetness in the bars is as a courtesy to corn syrup, a lot of sugar and sometimes even honey.
Calorie count
470 (100 gms)
13. Sandwiches
If the bread is multigrain, then yes, sandwich would be a good choice for breakfast. So, next time you think of making a sandwich, opt for the multigrain instead.
Why is it unhealthy?
Any kind of bread, even the brown bread is highly fattening.
Calorie count
White bread sandwich- 228 (2 slices of bread and one slice tomato)
Brown bread sandwich-88 (two slices of bread, half a tomato, half a cucumber, chutney and no butter/oil)
14. Smoothies (ready made)
Making your own smoothie with low-fat milk/almond milk, and adding yogurt, fresh fruit, nuts and a drop of sugar or honey (for sweetness if needed) would be a better alternative.
Why is it unhealthy?
Ready made smoothies or smoothies bought from a store are filled with whole milk, cream, and sugar-all of which are too fattening to be consumed during breakfast.
Calorie Count
300 (one glass)
Another important thing to keep in mind, for those watching their weight, is to not try to cut back by eating too small a breakfast. Avoiding eating breakfast completely or even having too little an amount of food for breakfast, can throw off your entire body—and even the energy throughout the day.
So, eat healthy, especially the breakfast, when weight loss or keeping the weight in check is on the agenda.
*as published on Pinknest