Every time we watch movies like 'Hangover' or 'Dil Chahta Hai' or 'Zindagi Na Milegi Dobara' and we feel how important it is to make memories with your friends and wish if we could go on a similar trip with our girl gang too! But being a girl we have to keep many things in mind, like which place would be safest, what does the place offer and especially the budget. So, we bring to you places you must totally explore with your girl gang and make some amazing memories. The best part is that these are unconventional and will offer an experience like never before! Haven't we had enough of Goa already? So here are 15 most beautiful places in the world that you must add to your travel bucket list.
1. Croatia
This gem is located in Central and Southeast Europe. It is a misconception that Croatia is expensive- but we can assure you that is not the case. If island hopping on Croatia's famous coastline is what you're interested in, you can easily opt for a cheap ferry to get around. Renting a car is also extremely affordable meaning you can head to some of the lesser-known (and less expensive) coastal towns.
Finding affordable accommodations is possible, as well with rooms starting at 100 Euros. Airbnb is also popular and affordable throughout Croatia.
Things to do:
Sailing- When a country has over 1,000 islands and one of the richest archipelagos in the world, don't miss your chance to sail along the coast.
Visit the National Parks (it has eight of them!). The  Plitvice Lakes National Park is a must visit
Discover Zadar- a historic town offering music, good food, and awesome views
Zip lining and river rafting on Cetina River.
Hiking
Rent a car and go on a road trip
Best places to eat:
Konoba Opat, a restaurant where they only serve you fresh fish caught by local fishermen.
Monte, Rochasvinj
Marina, Novigrad
P.S: Also, Game of Thrones!!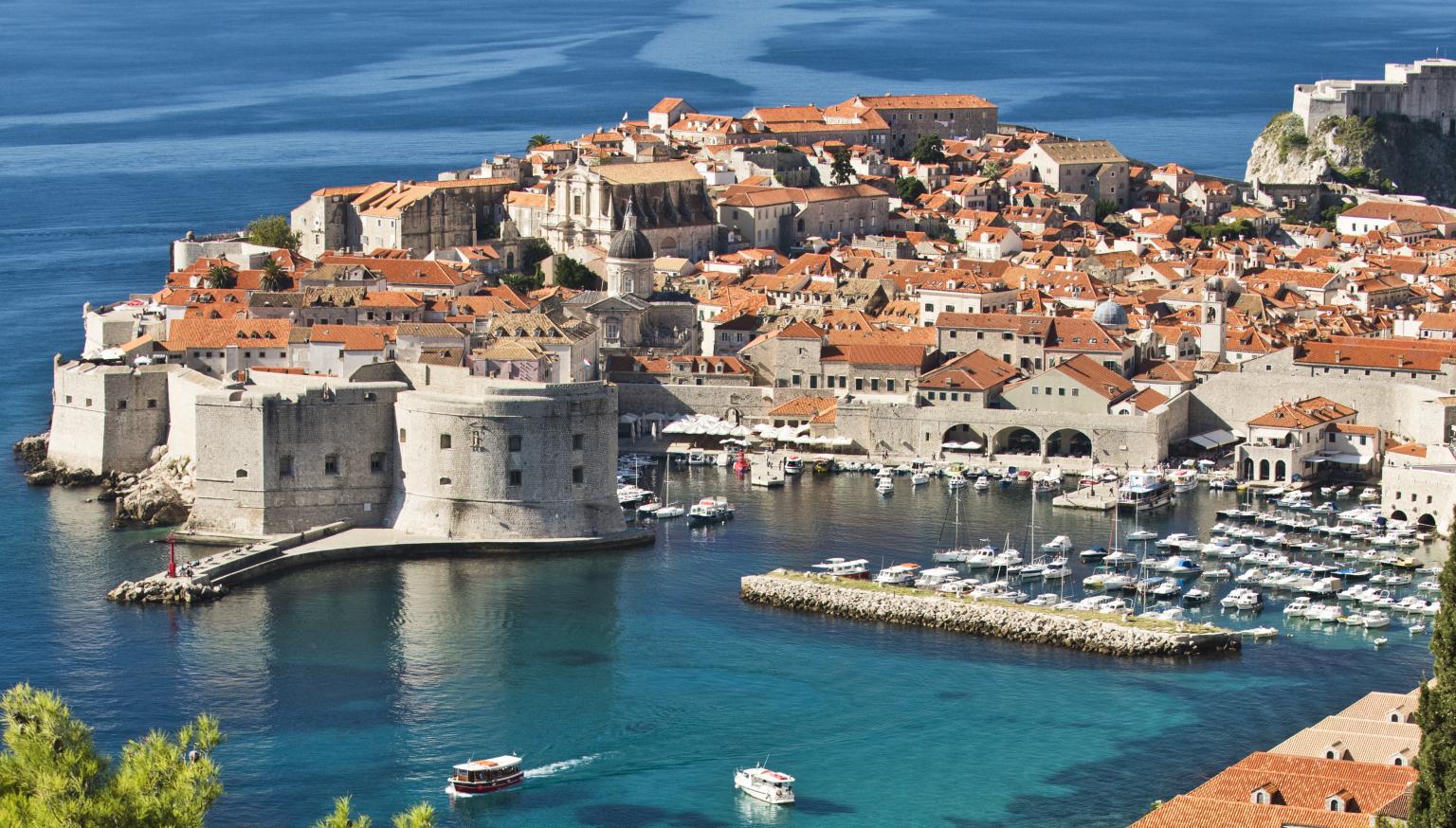 2. Barbados
There is nothing better than strolling on a white, sandy beach and looking out on the clear blue water. And Barbados offers just that! Plan a trip to this Caribbean country (located on the east of the other West Indies) Islands during an off-peak time. Sure, you will miss some of the most popular times to be in Barbados –including the popular summer festival, Crop Over – however, you will not only avoid crowds but save some bucks too! You can find great deals for some of the most exotic properties on the ocean side of the island. Delicious – and affordable – food and drink are available here in abundance as well.
Things to Do:
Visit the picturesque beaches
Soak in the architecture of St. Nicholas Abbey
Enjoy natural beauty at Hunte's Gardens
Undertake the Barbados boardwalk
Visit Harrison's Caves and the Animal Flower Cave
Go rum tasting at Mount Gay Visitor Center
Best places to eat:
Bajan cuisine (which includes dishes influenced by a number of cultures)
Friday night fish fry at Oistins.
3. Gold Coast, Australia
Probably the most exotic beaches in the world are located in Gold Coast. It is the best place to chill out as well as undertake some adventure with your girl gang.
Things to do:
Relax at the beaches all day long
Visit the numerous theme parks and hop on to the thrilling rides that they offer- Warner Bros, Sea World
Visit the Springbrook National Park
Go whale watching
Shopping- Pacific Fare Shopping Center, Carrara markets, Paradise Centre and many more
Undertake Tamborine Skywalk and O'reilly's Tree Top walk
Visit Currumbin Wildlife Sanctuary
Visit Tamborine Mountain glow worm caves
Best Places to eat:
Seascape Restaurant +Bar
Burleigh Brewing Company
Hurricane's Wood Fire Grill Surfers Paradise
Cedar Creek Estate Vineyard and Winery
4. Montreal and Vancouver, Canada
Girl trips are all about enjoying the nightlife and indulging in some thrill seeking. Well, these two Canadian cities offer just that!
What to do:
Go to the Rideau Canal, the longest skating rink in the world when it freezes is a must see.
Churchill in Manitoba is one of the best places to catch a glimpse of an Aurora Borealis or Northern-Lights (sightings from late November through to late March).
In Vancouver, you can enjoy the city's nightlife, ski at Whistler and go whale-watching along the coast. Camping, hiking, and boating are also things you can do when in town.
Alternately, you can venture outdoors and see some real wildlife in Vancouver.
Best Places to eat:
Pastaga, Montreal
Montreal Plaza, Montreal
Moleskine, Montreal
Meat & Bread, Vancouver
Phnom Penh, Vancouver
Tacofine, Vancouver
5. Copenhagen, Denmark
This capital of Denmark is a busy city sporting beautiful architecture and renowned shopping. Don't miss the goddess Gefjun fountain, which tells the mythological story of how Denmark was created.
Pro tip: Stop by at night as the fountain lights up with a blue glow!
Things to Do:
Visit Tivoli Gardens
Marvel at the views from the Christiansborg Palace
Explore nautical Nyhavn
Promenade along the harbourside
Drench in architecture, history, and art at the world-class museums
Shop at Strøget
Drown in books and beauty at the Royal Library
Best Places to eat:
Any of the cafes at Torvehallerne Market
Harry's Place and Døp for hotdogs
Aamanns for open-faced sandwiches
Bo Bech for bread
Mêlée for a non-Danish restaurant
6. Ottawa, Canada
Another capital city which offers great views and a good shopping experience in Ottawa. Do check out the ByWard Market which is one the oldest in Canada and sees over 50,000 visitors every weekend. You can shop for local produce and artisan bread and cheeses, along with handmade clothing and jewelry. What more could a gang of girls ask for, right?
Things to Do:
Visit the Rideau Canal
Whitewater rafting
Rock and Ice Climbing
Skiing
Ride the water maze at Eco-Odyssee
Visit the National Capital Greenbelt
Go apple picking at Ferme L' Artisan Farm
Best Places to eat:
Black Cat Bistro
Navarra by Rene Rodriguez
Oz Kafe
Murray Street
Sidedoor
El Camino
7. Auckland, New Zealand
Known as the "City of Sails" this gem will surely touch any girl's heart because it offers innumerable yachts and beautiful beaches. One can enjoy a relaxing stroll over 3 kilometers of pristine white beaches in the township of Orewa and after a sunny day, relax in the natural thermal springs.
Things to Do:
Soak in the beauty of the city view from atop the Sky Tower
Visit the Barrier Island
Visit the many beaches like Cornwallis Beach, Pohutukawa Beach, and Mission Bay
Climb the volcanoes
Get inspired by a visit to the Auckland Art Gallery Toi o Tamaki and TSB Wallace Arts Center
Snorkel and dive at the Goat island
Climb atop the Manukau Heads Lighthouse
Visit the Muriwai Beach to witness around 1200 pairs of gannets nest on the rocky clifftops
Jump from the Sky Tower
Enjoy thrilling rides at the Rainbow's End theme park
Take a leap off the Harbour Bridge
Abseil down a waterfall and enjoy stunning landscapes at the Waitakere Ranges
Best Places to eat:
1 Pancake (for pancakes)
Coreano
Ken's Yakitori
Bird On A Wire
Cassia
Coco's Cantina
Orphans Kitchen
Pasture
Amano
8. Helsinki, Finland
This capital city was chosen to be the World Design Capital for 2012 and rightly so!  Undertake a walking tour to view the buildings and art galleries soaked in amazing architecture with numerous Art Nouveau style buildings and you'll know the title is justified. You can even enjoy ruffling through the Nordic style clothing, which makes for fantastic shopping opportunities.
Things to Do:
Visit Suomenlinna
Go to the Helsinki Cathedral
Take a picnic, relax and be entertained right in the middle of the city at the Esplanade
Drop by the one of a kind Temppeliaukio Church
Take a tour of Seurasaari island
Relax at one of the many saunas. For public saunas try the districts of Kotiharju, Merihaka,  Hermann, or the new "Löyly" complex at the southern end of Helsinki peninsula.
Soak in some in fun, thrill, and adventure at Linnanmaki amusement park
Take a stroll down the Helsinki waterfront as there's a seven-kilometer trail that runs from end to end.
Best Places to eat:
Shelter
Juuri
Fisken på Disken
B-Smokery
Putte's Bar & Pizza
Naughty BRGR
Fleuriste
9. Setubal, Portugal
Warm Portugal is a beautiful vacation destination. If you want a private and relaxing vacation, take a trip to Setubal. Explore the city and enjoy the freshly caught seafood and delicious wines. The most beautiful beach here is Portinho da Arrabida, as the water is almost perfectly still with no waves.
Things to Do:
Visit the Serra da Arrabida National Park where the forest meets the sea.
Get spiritual at the Monastery of Jesus
Visit Quinta da Bacalhoa-one of the most beautiful early-16th-century properties surviving in Portugal.
Shop for fresh fruit and vegetables, flowers, cheese and cured ham at Mercado do Livramento
Enjoy a ferry ride over to Praia de Tróia
Visit Castelo de Palmela
Take a road trip over the Estrada de Escarpa
Best Places to eat:
Rackalot Praia
O Miguel
Ribamar Troia
Taifa
Delicde Garden
Casa Santiago
Xixa Bia
10. Marseille, France
Of course, anywhere in France makes for an amazing vacation, but check out the opulent Marseille for a unique trip. The city lies on the Mediterranean coast, giving it prime beaches.
Things to Do:
Enjoy boat rides to nearby islands
Check out underwater remains of the téléscaphe – underwater cars that transported tourists through the beautiful water in the 1960's.
Visit Old Port
Climb atop to the Basilique Notre-Dame de la Garde
Visit Calanques National Park
Drive or stroll down La Corniche
Visit Le Panier-an increasingly trendy district with independent boutiques and craft shops, cafes and plenty of imaginative street art.
Be amazed by art and architecture at MuCEM
Enjoy the grandeur of Stade Vélodrome-the largest club football stadium in the country
Stroll down the handsome Boulevard Longchamp with its upmarket 19th-century houses and twin row of plane trees.
Relax at the beaches- Prado seaside park being top of the list
Best Places to eat:
Delicious seafood meals available at all the prime beaches.
Le Petit Nice
Chez Fonfon
Le Comptoir Marseillais
Les Trois Rois
Le Café des Épices
Café Populaire
11. Budapest, Hungary
Hungary's capital is an amazing tourist destination which we often overlook. So grab your girls and see the beautiful sites of Budapest, like the Chain Bridge, Buda Castle, and Széchenyi thermal bath. Not only will you get to see a beautiful place, this is sure to be a unique trip to create memories that will last a lifetime.
Things to do
Take a dip and relax in one of Budapest's famous baths.
Walk across Chain Bridge, the first bridge to connect Buda and Pest.
Visit Hungary's Parliament Building, see the amazing architecture and the Hungarian Crown Jewels.
Best Places to eat:
Kéhli Restaurant
Costes
Onyx
Borkonyha
12. Milan, Italy
Shopping is a therapy especially when you do it with your best friends in the best shopping destination in the world. Mind you Milan doesn't necessarily mean skyrocketing prices and unaffordable brands
What to do:
Vintage shopping at Navigli
Enjoy the view from Duomo roof
Draw inspiration from Leonardo's The Last Supper
Have dinner on a tram (ATMosfera)
Visit the classic art galleries
Shop at Galleria Vittorio Emanuele
Navigate the Navigli waterways
Visit the San Siro Stadium
Best Places to eat:
Delicious Gelatos at any local vendor
Ratana
Dry Milano
Il Luogo di Aimo e Nadia
Cracco
Alice
Mangieri di Strada
13. Dubai, UAE
Sick of the snow, beaches and the mountains? Lounge in the Dubai sun with your girl pals then! It is the perfect getaway for beaches, deserts and sub-urban life and to get your sunny side up with luxurious spas and the serene man-made beaches. Dubai is a must escape getting some winter sun with your best friends.
What to do:
Climb atop the highest building in the world-Burj Khalifa.
Peek into the Palm islands
Enjoy the wilderness at Wild Wadi national park
Shop away at the Dubai Mall
Skydive and enjoy the beautiful views of the Palm islands
Zipline over Marina on the world's longest zip line
Soak in the beauty (literally) of the Dubai Fountain
Best Places to eat:
Al Mallah Restaurant
Bu Qtair
Ravi restaurant
Tom and Serg
Indigo
Le Petite Maison
14. Rome, Italy
Visiting the wonders of the world is surely on everyone's travel bucket list. Why not cover one of the grandest, oldest, architecturally and historically rich one then?  Rome has more architecture than one can digest, so let the beauty of the city leave you in awe!
Things to do:
Get lost (quite literally) for hours in the Vatican museums
Be impressed by the ruins of the Roman Forum
Bask in city view at St. Peter's Basilica
Marvel at the old Roman architecture by visiting the Colosseum
Bathe in the beauty of Trevi Fountain
Best Places to eat:
Aroma
Flavio al Valavevodetto
Mordi e Vai
Litro
15. Prague
Filled with rich culture, heritage and history Prague offers something for everyone and to soothe each of your sense.
Things to do:
Take a walk down the Charles Bridge
Visit St Vitus Cathedral
Gape in awe at the display in Veletržní Palác
Spend hours marveling at the beauty of the Prague Castle
Check the time in an artistic manner at the Astronomical Clock
Pay tribute to the legend himself by a visit to the John Lennon Wall
Best Places to eat:
Cafe Savoy
Aromi
Doubleshot
Maso A Kobliha
Nase Maso
These places offer beauty, serenity and the much-needed escape from the hustle bustle of daily life. Not to mention they all have some great options in terms of stay, be it homestays, hostels or apartments. Pick the one that suits your needs and fit the bait.
So go make the reservations and start packing your bags!