Diwali is the most popular festival in India and amongst Indians all over the globe. This is because of a mutitude of reasons ranging from religious beliefs to an occassion for dressing up, meeting loved ones, decorating one's house with bright lights and lamps and a lot more.
But one major reason we all look forward to this festival is because it is a time when our taste buds are tickled and well taken care of. Right from sweet to savory, a plethora of food items are prepared by ladies of each household and these are enjoyed by family, friends, guests and loved ones with equal aplomb. One community which is known for its delicacies (and for being one of the most 'foodie' communities) is the Gujarati community.
If you don't have a gujarati friend or relative in your social circle, you are definitely missing out on a great food ride,especially during Diwali!
Worry not if you don't though. Because given below are the recipes to some of the best Gujarati snacks which can make this Diwali a spicier one.
1. Namak Para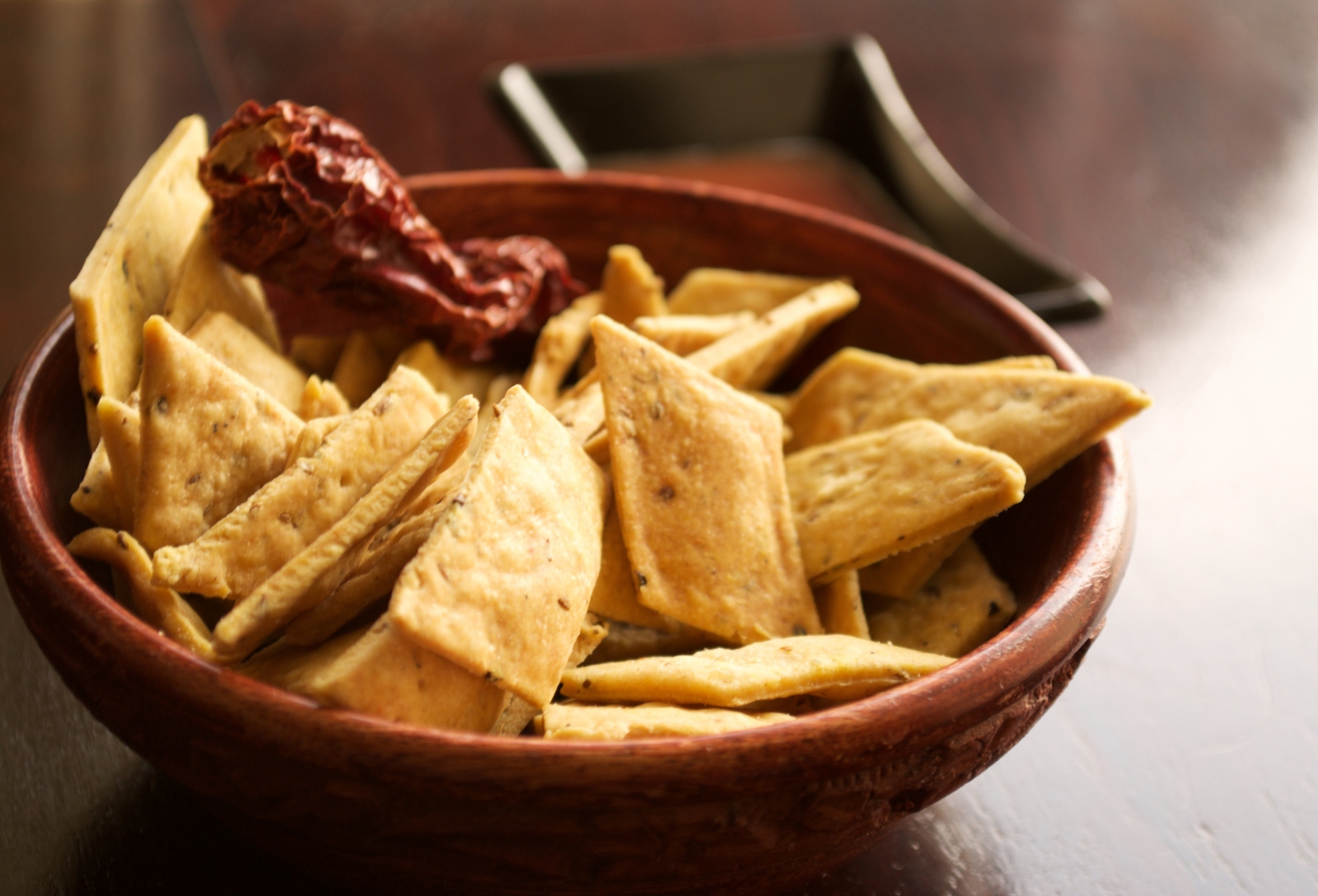 What you need:
1 cup refined flour
1 cup semolina
1/2 tsp thymol seeds
1 tsp salt
1/4 cup clarified oil
Cold water – to mix
Oil – for deep frying
How to make:
First mix the thymol seeds, salt, semolina and flour together.
Follow this by rubbing the clarified butter in lightly such that the mixture resembles breadcrumbs.
Then knead this into a stiff dough with cold water.
After this, cover the dough and set to rest in a cool place for about 15 minutes.
Then roll out the dough into a 1/4 or 1/8 thick roll.
Prick this with a fork all over the surface.
Then cut it into narrow strips of your desired size.
Heat up the oil in a kadhai.
Drop in a small piece to check the temperature and if it rises to the top your oil is ready for cooking.
Then, put in as many strips as will fit in comfortably.
Turn once, and lower heat to medium. Fry till they become light brown on both sides.
Lift out and place on absorbent paper.
Fry the rest similarly, increasing heat before adding a fresh lot.
Cool and store in an airtight container.
2. Chakli
What you need:
2 cups rice flour
1 cup gram flour
2 tsp salt
1 tsp red chilly powder
2 tsp black pepper, crushed
1/2 tsp heeng (asfoetida)
1 Tbsp ajwain (carom seeds)
60 ml canola oil
400 ml water
How to make:
Take a bowl and mix both flours.
Add salt, black pepper, red chilly powder, heeng and ajwain into this mixture.
Pour canola oil into it and mix it with a light hand.
After this, add water and make the mixture into a dough. Make sure that you do not over knead the dough or knead stiff dough.
Heat up canola oil in a Kadhai till it is medium hot.
Then place the dough in the chakli press and in quick round motion, make/ drop the chaklis on oiled surface into the kadhai.
Carefully pick chakli and deep-fry until crisp.
Place the fried chaklis on absorbent paper so that they are not oily.
Store them in an air tight container so that you and your guests can enjoy over all days of Diwali.
Note: Once you have mastered the chakli, you can also directly shape the chakli in the Kadhai.
3. Mathiya
What you need:
Muth or mathia Dal Flour- 100 gm

(1cup) – It is brown lentil looks like green gram (Moong)

Urad Dal Flour- 100 gm

Besan- 2tbsp

11/2

tsp

Ghee – Clarified Butter

Papad Khar/ Soda Khar– 2 tsp

Ajwain– 1 tsp

White chilli Powder– 1tsp if available otherwise add red chilli powder

11/2

tsp

Salt to taste

1/4 – 1/3

cup

Sugar

Water as needed – I used about 1/2 cup

Oil for frying
How to make:
Sieve flours with Chilli powder. Add one tsp of ghee too into this.

Warm up water.

Add Papad Khar, salt, sugar, ajwayan in it.

Add Water to knead the dough.

Pound the dough with either stone mortar or with your fist for about 20 minutes.

Stretch the dough and make small balls out of it (the way we do for puris)

Deep fry these till they turn golden brown.

Once fried, sprinkle red chilly powder on this

Store in an air tight container to maintain the crispness.
4. Chorafali
What you need:
11/2

cup

Choli flour

(Buy ready cholafali flour if available).


1/2

tsp

crushed carom seeds

(Ajwayan)

1/2

tsp

red chili powder


1

tsp

chaat masala

Salt

How to make:
Mix chavli flour and salt.
Then Add crushed ajwain and mix it in the flour.
Add one-tablespoon oil and just enough water and knead this into a stiff dough.
Keep it to cool down and for about ten minutes.
Pound the dough and add a little oil in between, till it becomes smooth.
Divide the dough into eight equal portions and roll out each portion as thin as possible.
Heat sufficient oil in a kadai.
Cut one-inch wide strips of the rolled out dough and deep fry till crisp.
Drain onto an absorbent paper.
Mix red chilli powder and chaat masala powder and sprinkle over the fried strips when still hot.
Cool and store in an airtight tin. If stored properly they will stay fresh for even fifteen days.
5. Namkeen Ghoogra
What you need:
Maida: 4 Cups
Peas: 4 Cups
Oil: 1 small Bowl
Cocunut(grated): 8 Tablespoon
Ghee: 4 Tablespoon
Ginger-chilli Paste: 3 Tablespoon
Sesame Seeds: 2 Tablespoon
Sugar: 1 Tablespoon
Coriender leaves(chopped): 4 Teaspoon
Lemon Juice: 2 Teaspoon
Asafoetida : 1½ Teaspoon
Cumin seeds: 1 Teaspoon
Salt as per taste
How to make:
Take maida, add salt, asafoetida and ghee with little water.
Make a dough of the mixture.
Now make small balls from this dough.
Grind peas for stuffing inside the ghooghra.
Take a pan and add oil, asafetida & cumin seeds in it.
After the seeds crackle, add grinned peas and few drops of water and mix them well. Cook for 5 minutes.
After 5 minutes , remove pan from gas.
Add sugar, sesame seeds, lemon juice, salt, ginger-chilli paste, coriander and grated coconut and mix them well with the cooked and fried peas.
Now make small round rotis from the balls of dough and add the prepared mixture in it
Roll the dough, giving it a moon shape and seal the edges using a drop of water.
Heat up the oil again and fry all stuffed balls until they become light brown.
Serve hot with chutney for more taste.
You can store them in a container or in refrigerator (heat up before eating if you store in refrigerator). They will stay fresh for about 2 weeks if stored well.
6. Chivda
What you need:
3 cups brown/white rice poha
1 handful chopped green chilli
1 pinch asafoetida
1 teaspoon sugar
2 pinches salt
1 pinch mustard seeds
1 handful chopped neem leaves
1 pinch powdered turmeric
1 teaspoon refined oil
2 tablespoon cashews
2 tablespoon raisins
2 tablespoon raw peanuts
How to make:
Roast the poha and peanuts in a non-stick pan till they become crisp
In another pan, heat oil along with (add these after the oil is hot enough) the mustard seeds, asafoetida, green chillies, neem leaves and saute.
Add turmeric powder when the seeds cackle

Then add this roasted mixture to the other pan and mix it with the green chillies and neem leaves.

Add salt and mix it well all the ingredients. Add some sugar too.

Let this cool for sometime. Then store it in a box so that it remains crisp.

Serve this chivda with masala chai or coffee to enjoy it even more.


Note: If you don't mind some extra calories add the cashews while roasting the poha and peanuts.
Let this Diwali tingle your taste bud`s a little more than usual.  A very Happy Dipawali to you and your loved ones!!
*as published on Pinknest.in